From our heart to your table
we welcome you to Sushi Koo.
Magnificently crafted Japanese cuisine in the heart of Los Angeles.
Female Owned, Family Operated.
Since opening our doors in 2012, Sushi Koo has proudly worn the bade as a family-owned and operated business with a passion for serving others. We are proud to be run by a team of minority women with a passion for traditional flavors, modern culinary adventures, and bringing people together through delicious food.
Classic Japanese Flavors. Modern Dining Experiences.
From the meticulous preparation of our house-made sauces, to our magnificent assortment of classic Japanese flavors, Sushi Koo is pleased to offer our honored guests a delicious dining experience that is both steeped in tradition and bursting with authentic flavor – all without breaking the bank.
The Best Sushi and Japanese Cuisine in Los Angeles
Using quality ingredients and the humble, time-honored traditions passed on from generation to generation, Sushi Koo embraces, embodies, and exemplifies the undeniable wonders of classic Japanese cuisine. Available in both dine-in and take-out, as well as offering full catering services, Sushi Koo goes above and beyond to deliver an incredible dining experience that is delicious and affordable.
Traditional Japanese Cuisine and Handcrafted Sauces
With a commitment and passion for using only humble, high-quality ingredients and time-honored culinary traditions, Sushi Koo is proud to offer exquisitely crafted cuisine that is authentic, heartfelt, and delicious. In addition to our expansive menu of carefully crafted dishes, we are proud to offer only the finest sauces that are made from scratch, right in our restaurant. From our Spicy Mayo to our robust Eel Sauce, our vibrant and memorable Chili Sauce to our iconic Ponzu – Sushi Koo delivers a taste experience you won't want to miss.
About Us
Proudly serving the people of Los Angeles since 2012, Sushi Koo delivers an authentic sushi and Japanese dining experience that simply delights. From sushi to noodles, Teriyaki to salads, sauces to sashimi, and everything in between – Sushi Koo has remained steadfast in our mission to provide an affordable, delicious dining experience that nourishes the body, mind, and soul.
Beyond our commitment to delivering an incredible meal, decadent sauces, and affordable prices for our clients, Sushi Koo is also a proud member of our community and is passionate about giving back to those in need. Through our work within our community, we have provided hundreds of meals to some of our most vulnerable citizens, including seniors and healthcare workers. We have donated masks, meals, discounts, and more to help make our community stronger, healthier, and happier.
A family-owned and operated business that is proudly led by minority women, Sushi Koos offers fresh, handcrafted sauces, delicious food, and superior service from start to finish. Whether you are in the mood for Japanese food take-out, a spectacular sit-down meal with your family, or a catered spread for your wedding, shower, or corporate event, Sushi Koo is committed to providing you a delicious dining experience that is sure to thrill, inspire, and satisfy.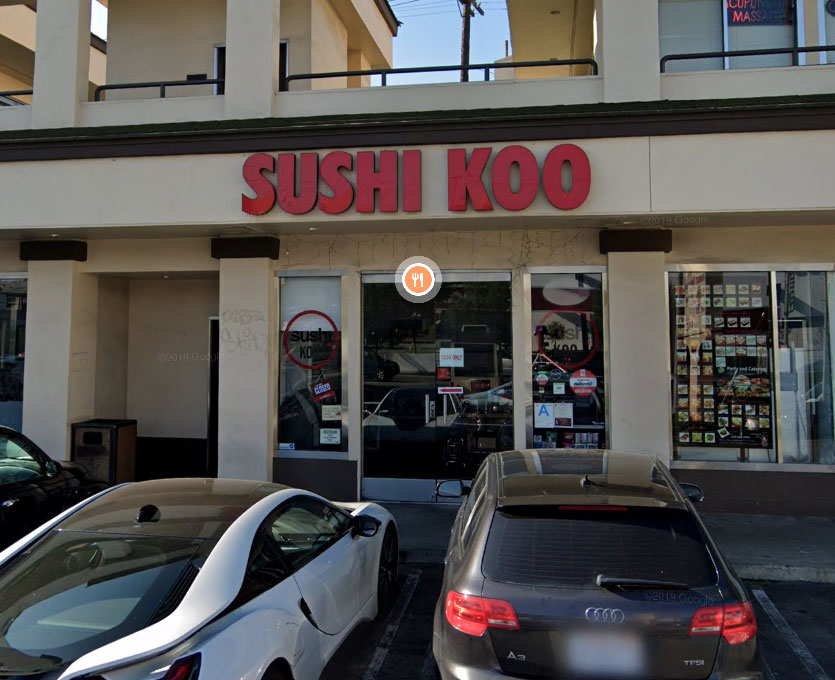 Services
Catering Services
From weddings to anniversary parties, birthday parties to corporate events, baby showers to business luncheons, and everything in between, Sushi Koo offers catering services designed to meet your every need. From small gatherings to large events, our team will work with you to create a beautiful spread of delicious Japanese food and sushi that is affordable, authentic, and tasty. Sushi Koo has been the catering team of choice for several high-profile clients, including Netflix, the NFL, TMX, Bird Ride, and several red-carpet events.
Homemade Sauces
Each of our delicious sauces has been handcrafted and handed down for generations, featuring both traditional Asian flavors and textures, and infused with a modern flair that sets them apart from all the rest. Our sauces are used in all of our cooking and are also available for individual purchase.
Dine-In or Take-Out
Sushi Koo offers both dine-in and take-out options for our incredible meals. Join us in the restaurant and let us cater to your every need, or order take-out and enjoy a quiet night in – either way, Sushi Koo will make sure your meal is delicious, flavorful, and satisfying.